Customize columns on the administration screens for post(types), users and other content. Filter and sort content, and edit posts directly from the posts overview. All via an intuitive, easy-to-use drag-and-drop interface.
Customize everything you need to with Admin Columns Pro! Start using this amazing plugin for your Woocommerce and create the site of your choice. Easy-to-use and fast-working, this is the perfect plugin for you if you want to edit anything that's WordPress pre-made, like images or products. Endless possibilities bring endless opportunities, so start now with EffectIO!
Starting with the plugin
In order to get started with Admin Columns Pro, you have to download the EffectIO Dashboard plugin. Install and activate it, then you will see in the right part of the screen, on the same line, the Install button. After that, go and activate Admin Columns Pro from the Plugins Dashboard.
Settings of Admin Columns Pro
If you go to Settings, you will see below the Admin Columns Pro tab. Click on it and the dashboard will open. From there, you can edit the main features of WordPress. Let's click on Images, for example. 

From here, you can edit its type, label, width or even export it. If you really want to, you can also delete this section. After you finish editing, simply click on "Close"; then you can go on to the next section. 
Let's take a look at another example: 

Here, things get a little bit more complicated: you can bulk edit, sort and even enable smart filtering. Cool, isn't it so? Let's see some more options: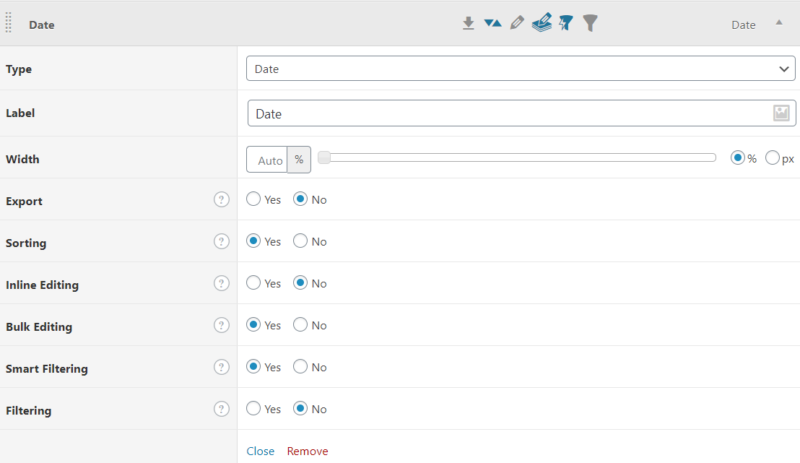 If you want to expand this section, click on "Edit" and this will show up. As you can see, there are plenty of options. Choose the ones that best fit your interests. For example, you can enable exporting or even filtering, or disable bulk editing.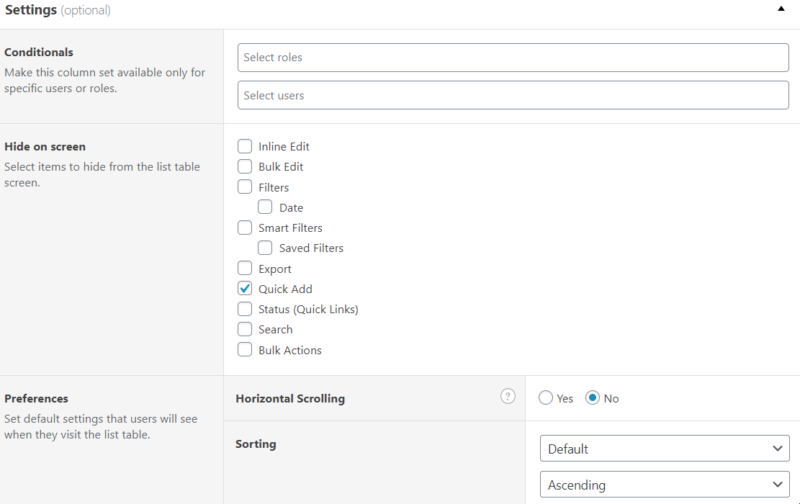 The optional settings are for the Admins. You can first of all select the users by their roles and names. Then you can hide items from the list. You can set the horizontal scrolling and the sorting type. In other words, any member team can work with Admin Columns Pro, but you should only leave this to those who are able to do so. So choose carefully.
If you click on Settings from the above section of the page, a new "world" will appear.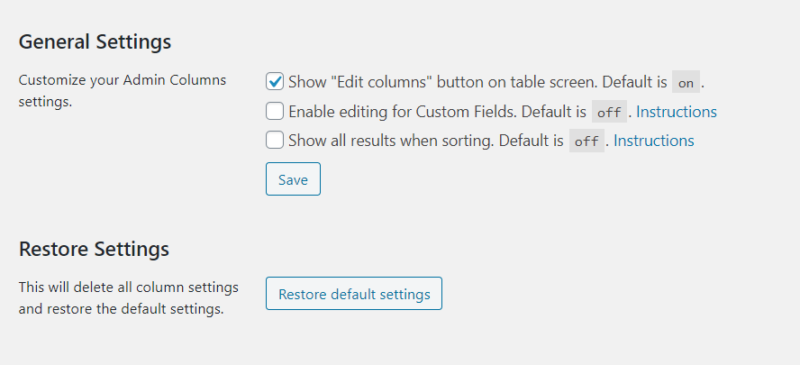 From here, you can show the "Edit columns" button on the table screen. Moreover, you can enable editing for Custom Fields or show all the results when you sort. 
If you want to delete all the settings you've made, you can do so by clicking on Restore default settings. Let's say that you were just testing the features but you don't want them to be permanent. You should have the option to restore everything. Back to basics, in other words.
In conclusion
To sum up, if you want to change WordPress settings, you will need Admin Columns Pro. If you feel like it doesn't have enough features, you can always try its addons, which bring out even more functionalities. Start now building the type of site you and your team enjoy working on! Get even more plugins from EffectIO. The best is yet to come.