WordPress SEO PRO is the most complete WordPress SEO plugin that exists today for WordPress.org users. It incorporates everything from a snippet editor and real time content analysis functionality, images titles, meta descriptions and more to XML sitemaps.
Take a look at what WordPress SEO Premium Plugin can do: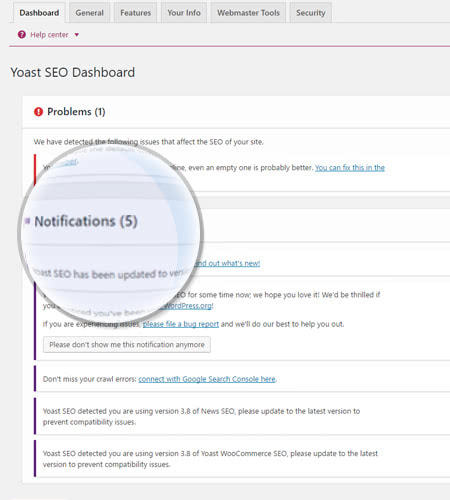 Intuitive Plugin Dashboard
The SEO PRO plugin appears in the menu after activating the plugin. Here you can find notifications and issues that influence your SEO score.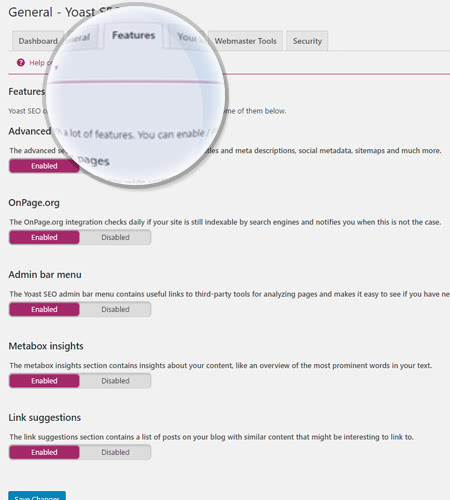 Enable whatever general Feature suits you Best
Want to know if you have similar content on your website? Or if your site still indexable by Google? Enable this features for more insights.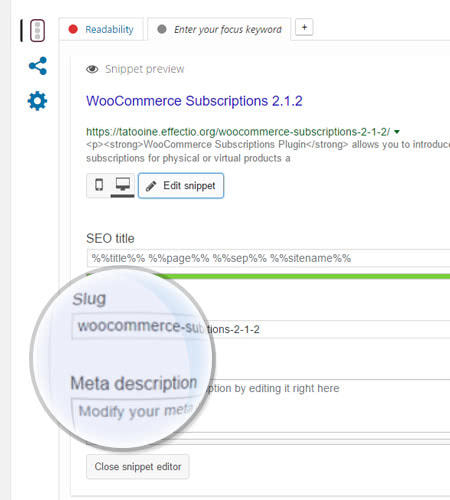 Post Titles and Metadescriptions
This feature comes in handy if you want to see how your description would look in Google. You can see the snippet preview on either mobile or desktop version.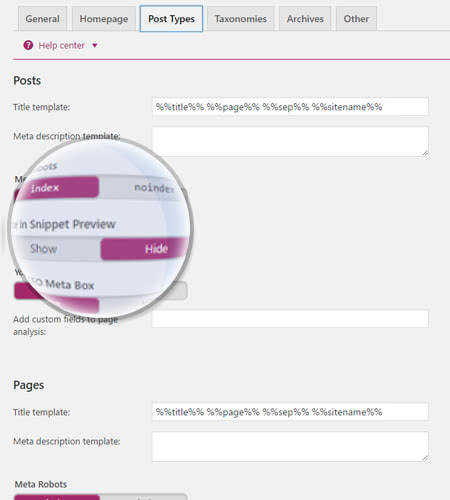 Manage if your pages or posts are indexed or followed by Google
You're not so sure about the quality of your content on some pages or individual post? Or maybe you still want to work on them without affecting your overall SEO Score. Choose noindex or nofollow.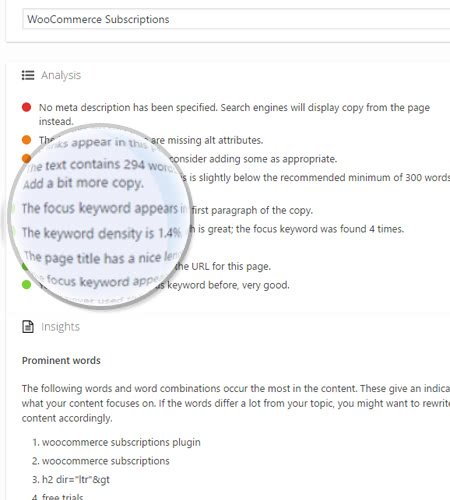 Analyse your content in realtime
The SEO PROplugin  will check the use of the keyword, the length of your copy and the existence of links in your text.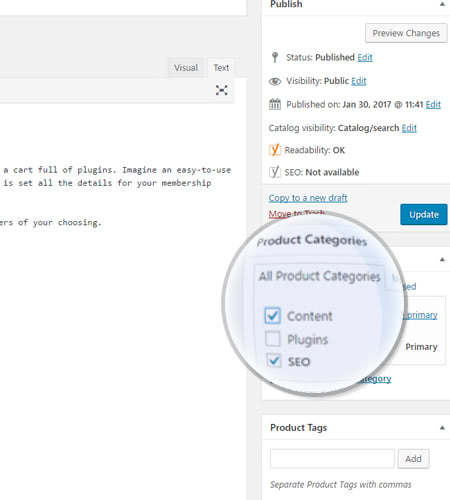 Classify your posts or products after Categories
You can add multiple categories to an individual post or product, while setting the main category as Primary Category.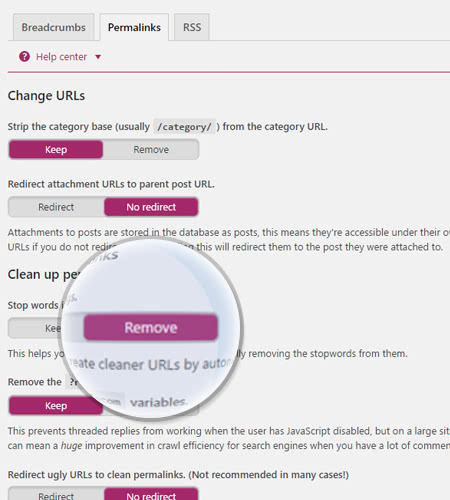 Clean up your Permalinks
It's possible for you to create cleaner URLs by checking to keep or remove stop words in slugs. You can also choose to redirect or not.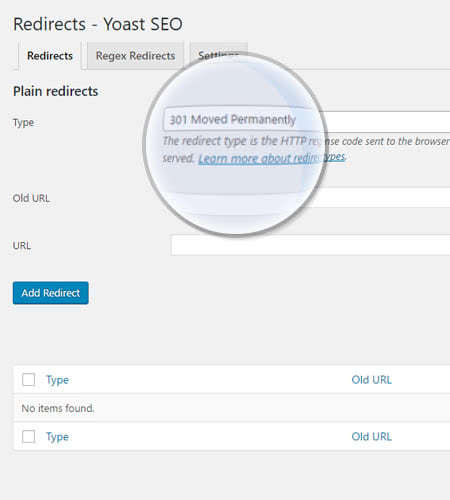 Manage the Redirects from within your Site – PREMIUM
Keep your website clean by redirecting old or deleted pages URLs. Integrated with Google Search Console. Never lose a visitor again!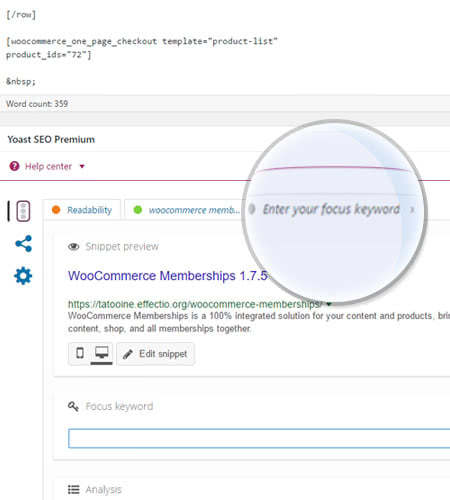 Add multiple focus keywords – PREMIUM
You can easily optimize your page by adding up to 5 focus keywords. Add synonyms or other related keywords and improve your SEO score.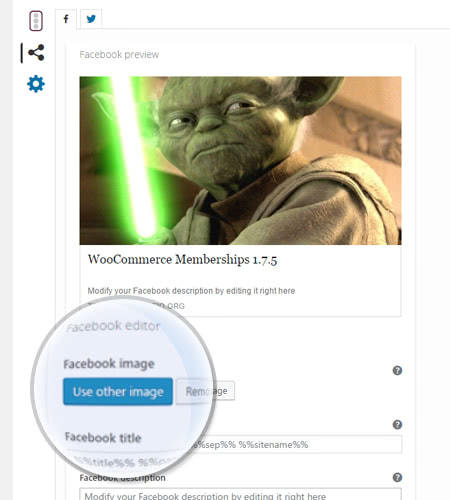 Preview on Social Media – PREMIUM
You can see how your post will look like on social media networks, like Facebook or Twitter. Set a featured image and specify the description.
Looking to learn SEO and improve your skills in this domain? Then try WordPress SEO Pro! By using this plugin, you will definitely get all the traffic that you want. 
It is one of the most used SEO plugins ever and it is so for a good reason. Its free version is amazing and usually people buy the premium one in order to have a better understanding of the Search Engine Optimization process. Become an important part of the SEO world by using WordPress SEO Pro!
How to get started?
Download the plugin from your EffectIO Dashboard, install and activate it. Then you should do the configuration wizard, so that you have your JSON Schema set up. Simply choose the options that best suit your business. Don't forget to add the Social Media links when you're asked to.
Then go to Pages / Posts (depending on your intent) and choose "Add New". Add the title of your page and go at the bottom of your page. For this example we're going to use the keyword "SEO Services London".
If everything went right, you should see this screenshot: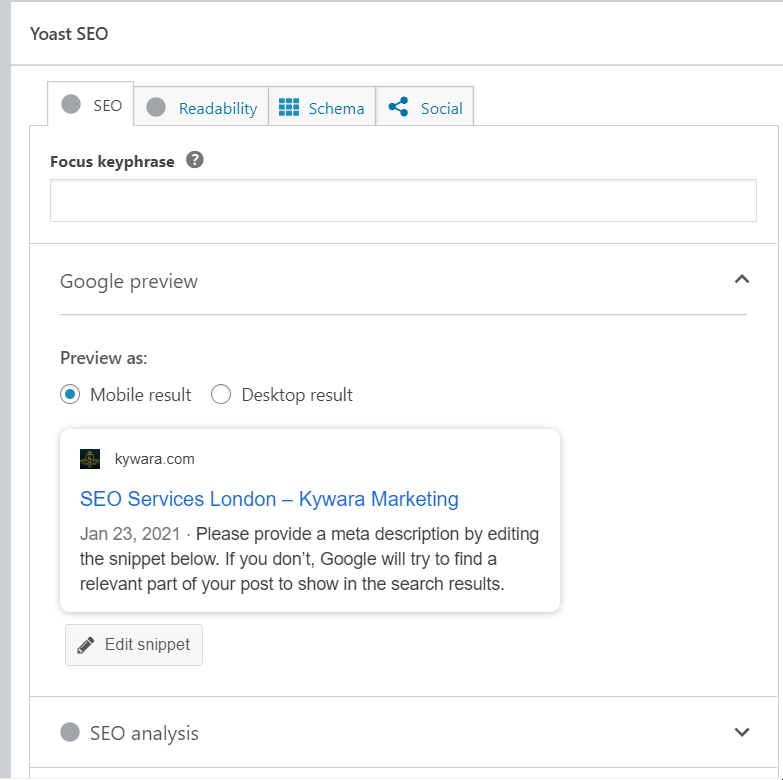 Add the focus keyword in the respective space bracket, in our case "SEO Services London".

Then click on "Edit Snippet" in order to introduce the Meta Title, URL and Meta Description below.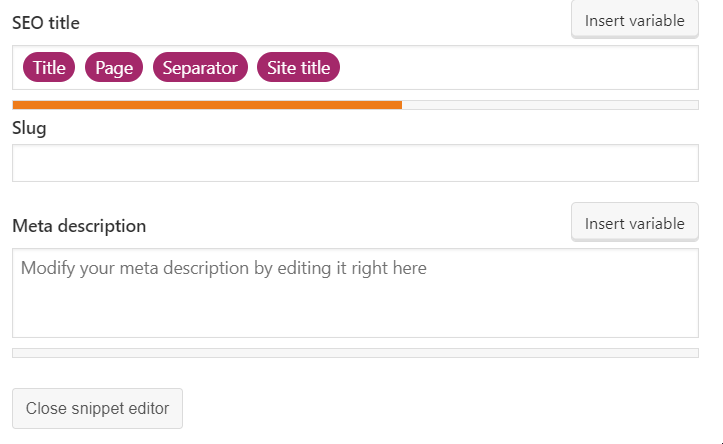 The SEO Title (Meta title) should contain the exact keyword at the beginning, and so should the Meta Description. These two are the first two things the users see when they search for businesses like yours on Google and they should be as attractive as possible. The URL is the link to your website and it should only contain the keyword, written with – between the words.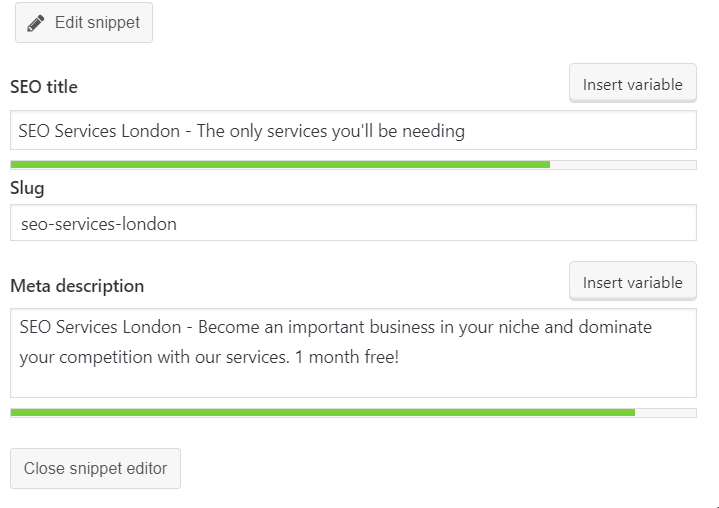 There are a few rules you should follow: the first would be to write the Meta Title and Description till the bar is green. Afterwards, don't repeat the keyword phrase too many times in these two brackets, if possible not at all. The Meta title should be as short as possible, but still make the bar green, while the description should be as long as possible, respecting the same rule. Don't write more than the green bar shows you. Otherwise, Google will not display your titles and descriptions entirely.
If you managed to do everything like we suggested you to do till now, the SEO analysis should look like this: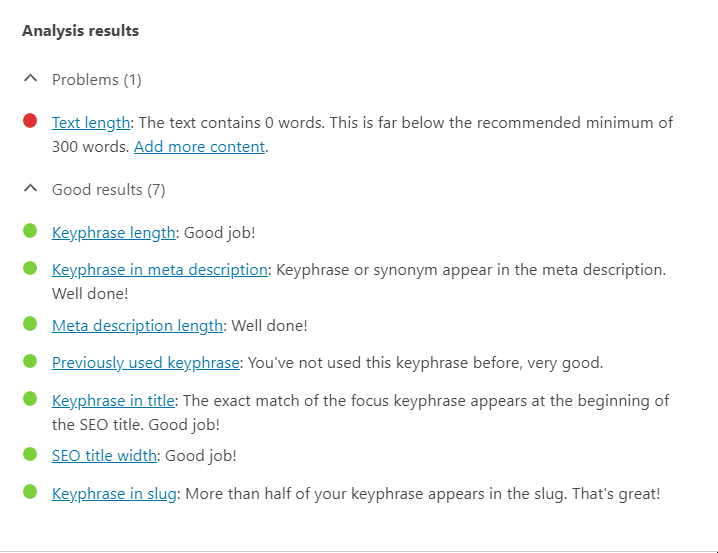 Afterwards, start adding content. The recommended length for a services site is about 1000 words and, for an ecommerce one, 300-400 words, but you can definitely add more words. Google loves content so the more, the better.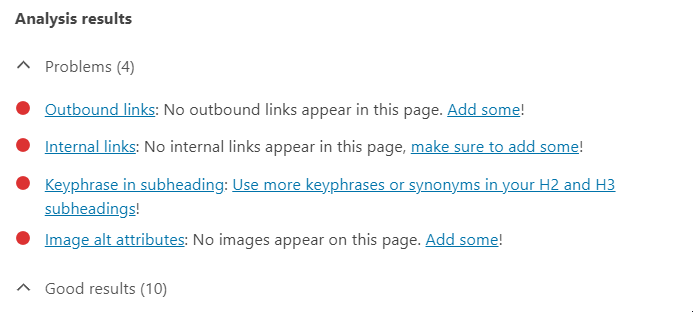 In the case that you're using multiple times the Heading 1, WordPress SEO Pro will show you that. Remember, only use one H1 / page. Moreover, follow all the rules that this plugin shows you. For example, if you use subheadings, like H2, H3 etc. you should use your keywords in them up to 60%. Don't over optimize. The same rule applies to images' alternative texts. Also add internal links to your pages for a better link juice and outbound links (external links) to other authoritative sites if needed.
Another cool use of WordPress SEO Pro would be the Cornerstone Content. This shows Google that your articles are really important, but you can only add 5-6 articles / pages of this type. When you click on "Cornerstone Content", you will see that some rules change: your content, if before had a minimum of 300 words, now has a minimum of 900 words.
Regarding the focus keyword usage, you should use it between 0.25%-1%, even if WordPress SEO Pro says you can go up to 2,5%. 
If you go even below and click on the Advanced tab, you should see the following: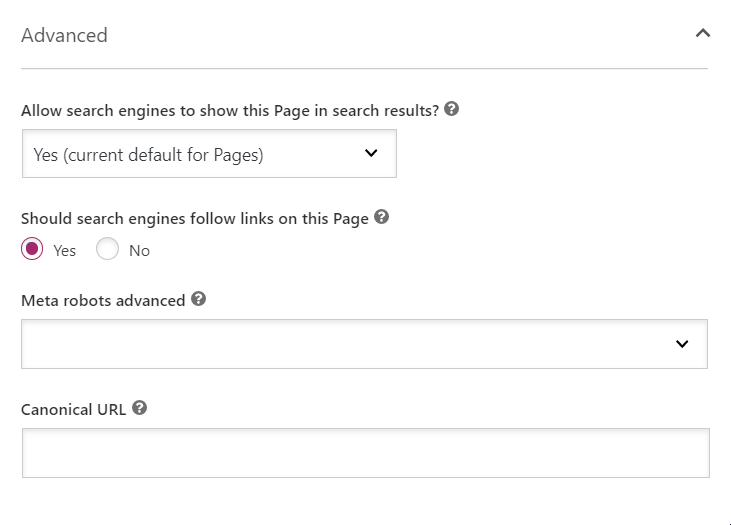 The first one means that you can set the no-index or index tag for the specific page. Moreover, you can set the follow/ no-follow tag for the links on this page. This is especially important if you want to set the nofollow tag for your e-commerce site. You can also add a canonical URL. 
If you click on Meta robots advanced, you will see the following: 

You should also check your Readability Score, which is next to SEO Analysis.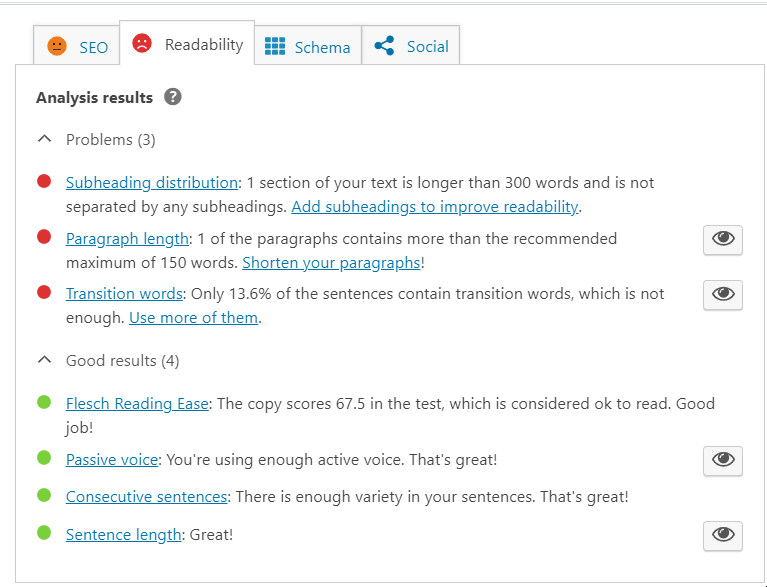 These are some common-sense copywriting rules. That's because you should not write complicated, complex phrases. Your users will get annoyed and leave the site. Again, work till all the points are green. If you chose the Cornerstone Content option, you will see that your headings should contain between 200 and 250 words maximum.
There are also some other options of this plugin that you should consider. If you go to the left menu and click on SEO, you will see the following: 

If you click on General, you should see the next image: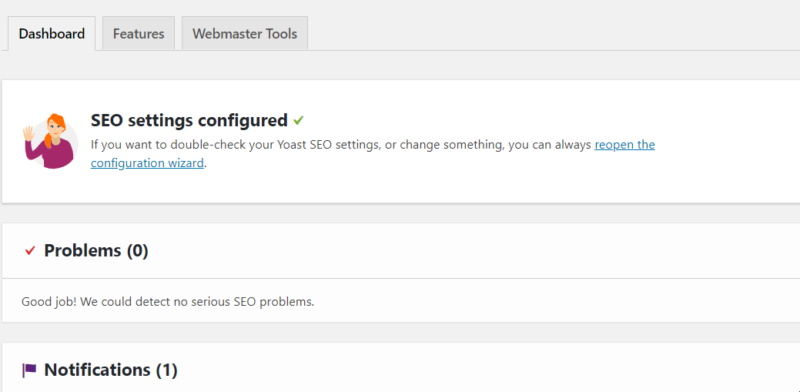 If you accidentally clicked on the no-index tag, then there's going to be a problem showing up. The notification bar will let you know if there's any update available.
You should check these features and adjust them to your purposes and preferences. What is more important, you should check your XML sitemap and add it to your robots.txt file.
In conclusion, WordPress SEO Pro offers amazing opportunities for anyone who wants to develop their SEO skills, being the best fit for both beginners and advanced SEO specialists. Its many options make it a plugin you can't live without in the case that you really want to rank your site. Begin your journey with EffectIO and take advantage of our low prices!