Are you in need of a booking method that's equally easy and benefic for a company based on accommodation or appointments? Then, simply use WooCommerce Bookings plugin by introducing a new item to your eCommerce shop, thus selling your services.
Find Out More About WooCommerce Bookings
Booking plugin is an effective extension that enables you to sell time or date-based bookings, including a new product type to your WooCommerce web page. More than this, it is ideal for the ones who want to offer appointments, services or rentals.
At the same time, bookings have personalized dates, expenses and length. Even more, they are bought like any other related WooCommerce products.
Why Choose Bookings Plugin?
How to Install WooCommerce Bookings
To begin with, you download the .zip file from your WooCommerce account.

Then, you go to WordPress Admin > Plugins > Add new to upload the file that you have uploaded.

In the end, you just have to activate the extension
How to Use
Above all, WooCommerce Bookings is created with versatility in mind and what it wishes is to cover a selection of use-cases with the identical interface and logic. Examples of utilization:
Booking appointments

Hotel reservations

Booking services

Rentals/Hires
Accommodation Bookings
This option for scheduling will not just simplify monitoring of overnight and long-term bookings, but it will also permit your visitors to book online effortlessly.
More than this, by adding this add-on, your guests will have the capability to rapidly book overnight stays with just a couple of clicks. Also, with fine-tuned control over check-in/check-out periods and unique room costs, are never out of touch with what's going at your place.
Although in most of the cases the plugin is perfect to use, there are some moments when it is not so suited (for instance, one-off event tickets).
Looking to make out of your site the next Booking? Then Woocommerce Bookings is the right plugin for you. All in one. Start building the site of your dreams using it and commence getting bookings and making money. With our premium "guy", you can make all your bookings come true. All you will need otherwise is the traffic to your site. Create such an awesome user experience that people just can't help but book from you!
How to get the plugin
All you have to do is to get the EffectIO Dashboard plugin and Woocommerce Bookings will appear here. Install it from the right part of your screen and activate it. Then go to Woocommerce -> Settings and start making all the settings needed. The plugin will appear in the left menu, under the "Bookings" name.
How to use Woocommerce Bookings
If that's the first time you use Bookings for Woocommerce, in the case that you click on "Bookings", there will appear that you don't have any. You can therefore click on "Add Booking" from the top of the page.

Afterwards, click on "Customer" and select the customer that you want to create a booking for. 


Then simply select the "Bookable Product". That's the product you want to book for your client.


The final step would be to create the order. Here you have 3 options: create a new order for the booking, assign it to an already existing order or simply don't create a new order for that booking. However, please note that in the first scenario the customer must make the payment in order for this booking to be complete.

Notifications

Woocommerce Bookings allows you to send customized notifications to your customers or users. You can remind them that they made a booking or simply welcome them to your house / hotel. What's really cool is that you can even attach files or images to your email by clicking on "Attach .ics files".
The membership and community idea drives people mad. When they receive personalized emails, they really start feeling better, because it means that someone really cares about them. That's when marketers take advantage of the human weakness.
Therefore, send customized emails so a good part of your customers will return to your place when they come back to your city!
Even more personalized experiences with Woocommerce Bookings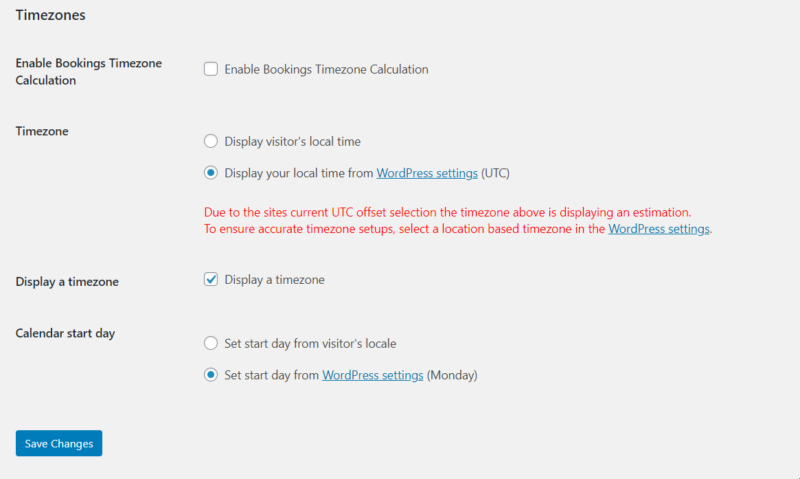 If you click on "Settings", the "Timezones" option will show up. You can enable the timezone calculation by checking the button. Furthermore, you can display your visitors' local time or your own local time. However, you have to choose between these two. You can start the day depending on your customers' settings or start your day based on your own settings, which, in our case, is Monday.
To sum up
In conclusion, Bookings from Ecommerce is the right plugin for you if you're looking to have some bookable products or services. Simply install and activate it from our dashboard and start working on making the best booking site that your possible customers can ever surf.