WPML Multilingual CMS Features
Translate posts, pages, custom types, menus, themes texts, taxonomy, posts or any other text. Page in a foreign language is no issue now. Open any page in any language and translate it
Translate tags, categories, and custom taxonomy
Translate custom fields
Translate WordPress menus
Standard translation controls
Browser language detection
Translate widgets
Translate general admin texts
Translate texts in theme and plugins admin
Manage the attachments in different languages
Multi-user translation management
XLIFF interface
CMS navigation
Sticky links

It is not made for 'machine translation; you have to select the option of translation to get another version of the page. It is not recommended to get auto-translation on the internet.
WPML Comes with all other plugins in the Bundle. Once you buy this item you will get 100% discount on all WPML products to complete your purchase!
This is one of the most effective and popular plugins of WordPress. It makes it easy for the website developers to build multilingual sites and run them at the same time. It is powerful and responsive enough for the sites of the corporate sector. Simple for the blogs, it is taken as an advanced for those who are advanced users. It is not a feature plugin for daily use.
WPML Multilingual CMS is a feature plugin not for daily use. There is the convenience of use but you have to make a full backup of the entire system and also make sure that you can easily roll back.
The most complete and popular WordPress Multilingual solution. WPML Plugin Bundle boasts an impressive feature set and wide compatibility with other premium themes and plugins. It is a must have a plugin for anyone trying to launch WordPress with more than one language.
Translate basically everything with WPML
The best advice someone could ever give to a services or to an online shop site would be to go global. If you are stuck and you don't know how to do so, WMPL comes in handy. With all the languages available in the plugin, you can translate your site into any language you want. The sky is the limit. Become great at web development and marketing with EffectIO!
How to get the plugin
Download for FREE the EffectIO Dashboard and search for WPML and install it. Then go to Plugins-> Installed Plugins and activate it. Being such a complex plugin, it requires a configuration. We'll do that within just a few seconds:
So after activating the plugin, click on the "Configure" button.
Configuration
The first option will be to configure the basic language, the already existing posts are in:

We'll leave it in English, as this post is already in English. But you can choose whatever language you want.

What is more, you can set what languages you want to add to your site. Don't worry, this is not the whole list, just an excerpt. You will find more languages when you actually install the plugin. Let's choose for this example German and French. You can always update this list. After selecting the languages, click on "Next".
Language Switcher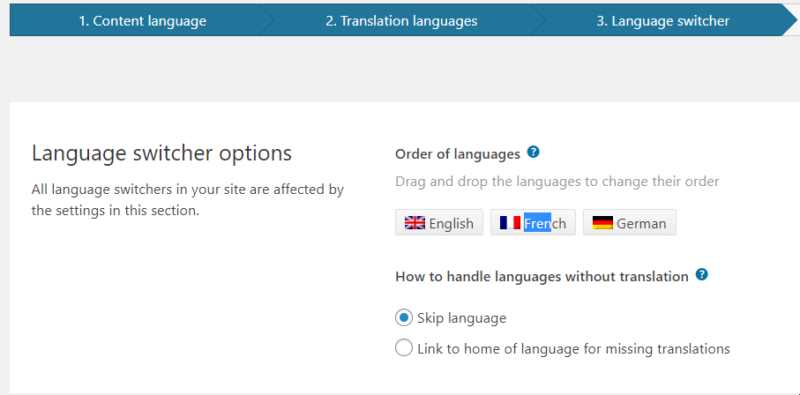 Here is the Language Switcher. First you have to select the order of languages, which can be any of your choice. Also choose how to handle languages without translation: you can either skip the language or link to home of language for the missing translations.

From here, you can add the menu/ widget language switcher. You can also add the switcher in the footer. This one is actually recommended.

Nevertheless, you can add links to the translation of posts by checking the above button.
Reporting

This one is really up to you. If you want to help them improve the plugin, you should check the first option. If you simply don't want to allow them collecting your data, you can do so by clicking the second option.
Final steps

You have to enter the registration key at the end or generate a key for your site if you want automatic updates. You can also click on "Remind me later" and enter that key later.
After completing this step, you will see a resume of your configuration settings at the very end of the configuration process. That's it!
To sum up
To conclude, WPML allows you to translate the whole site. May you have an ecommerce or a services site, you can translate them both. Get this awesome plugin if you want to go international and be known in the whole world. It's really important that you speak your customers' language and you show them interest in their languages. This changes the whole perspective. In other words, translate them all! Discover even more plugins with EffectIO. Start right away with our FREE Dashboard plugin and start discovering!