Find Out More About WooCommerce Dynamic Pricing?
WooCommerce Dynamic Pricing presents you an effective system for producing four various sorts of bulk discounts as well as price adjustments. Furthermore this add-on has been created to offer shop owners flexibility in managing prices that no other eCommerce option offers. More than this, Dynamic Pricing plugin enables you determine pricing guidelines based on items, order totals, roles, and product types.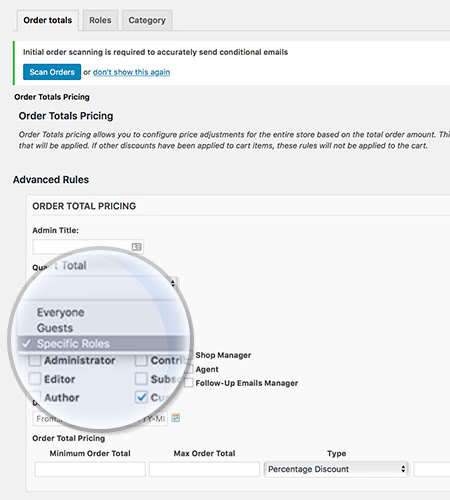 Order Totals
Add Pricing according to the role of the user: Everyone, Guests or Specific Roles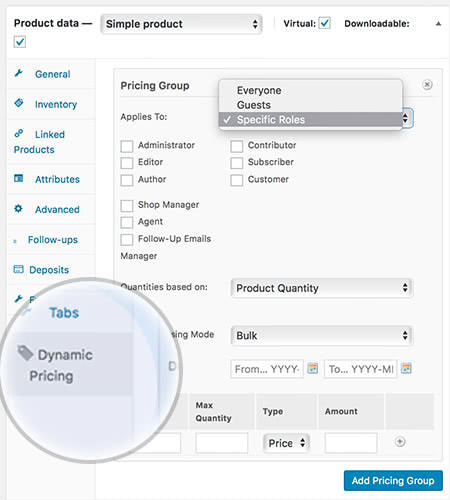 Main Settings
Do the Dynamic Pricing Setup in the Product Interface
Great Solutions In Controlling Prices
WooCommerce Dynamic Pricing gives you a powerful system for creating four different types of bulk discounts and price adjustments. This add-on has been designed to give store owners flexibility in controlling prices that no other eCommerce solution offers.
Advanced Product Pricing
WooCommerce Dynamic Pricing allows you to configure bulk discounts for each product in your store by creating a table of quantities and discount amounts. It's as simple as choosing from fixed price adjustments, percentage adjustments or set a fixed price for the product, as well as choosing which roles the pricing rule should be applied for.
Advanced Category Pricing
Choose between a fixed price adjustment and a percentage based adjustment in order to configure bulk discounts for product categories. You just have to create a table of quantities and discount amounts. Optionally choose roles the category pricing rule should be applied to.
Simple Category Pricing
Configure discounts for all items in a product category, in this case choosing between a fixed price adjustment and a percentage based adjustment. In fact all discounts configured using simple category discounts are displayed as users shop and browse items from your catalog. For instance, give 15% discounts to all items in the shoes category.
Simple Role Based Pricing
Configure discounts for all products in the store for users in roles you create, thus displaying discounts to logged on customers as they shop and browse items from your catalog. In other words, you can give specific discounts to premium members on all products in the shop.
Basic Settings

When you install this plugin, you will be shown its basic settings: it says this is the last discount that will be applied. If your site uses something else, then it will override Woocommerce Dynamic Pricing.
You can start by adding a Pricing Group: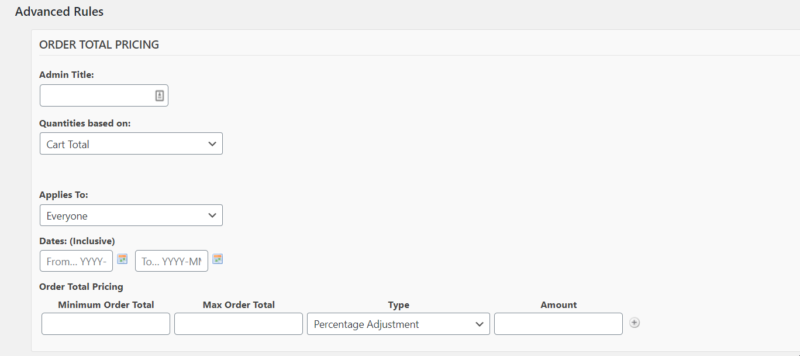 From here, you can add the admin title. Moreover, choose from quantities based on either Cart Total or Category Total. This pricing can apply to everyone, guests or people who have specific roles. Based on your business, you are the one that decides what's the best for each. What's more, sometimes it's better to let your loyal customers know that you appreciate their loyalty. Also choose the dates, minimum and maximum order total.
From the Type part, you can choose to adjust the priced based on the percentage and then write the amount of the discount.
Roles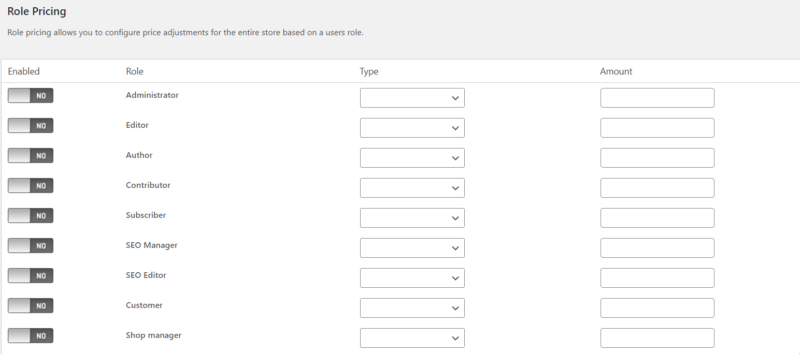 For each role, you can choose the type of discount: percentage or pricing discount and its amount, then set it to "Yes". That's exactly what we were talking about above, customizing each customer's journey through your site. Each user is different or, at least, belongs to a different category of people. That's why letting them know they are important and you appreciate that they are loyal is so important. A pro tip would be to specify a different amount for each category, for example, for new users you can offer different discounts than for lifetime users.
Woocommerce Dynamic Pricing Categories

From here, you can add pricing to specific categories. They are cumulative with Memberships, which means that this plugin is compatible with Woocommerce Memberships. If you click on Advanced, you will be able to add an even more customized experience for your users.
To sum up
By using the Woocommerce Dynamic Pricing plugin, you can create a very customized user journey, which will definitely help your users appreciate more you, your store and, finally, your business. Try this plugin and see even more awesome plugins in the EffectIO Dashboard. Get started!