WooCommerce Pre-Orders plugin allows your customers to order products before they are available. The pre-order experience is fully customizable and if you're using a supported payment gateway, pre-orders can be charged upon release without the customer returning and paying for their order.
WooCommerce Pre-Orders allows you to: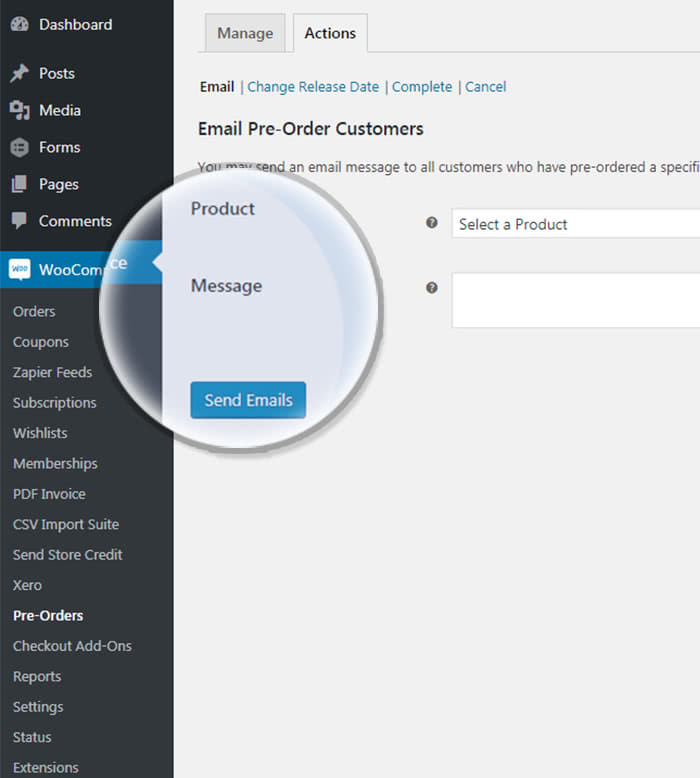 Send Emails To All Customers Who Pre-ordered A Product
This plugin has a number of preorder specific emails that can be easily customized. This action sends an email to customers based on the product ordered, without changing the status.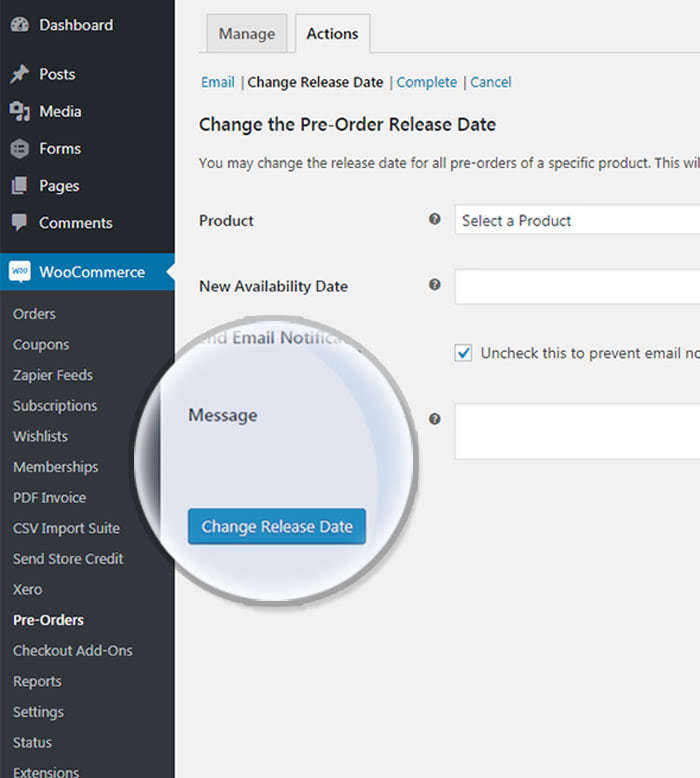 Change The Release Date For A Specific Product
You can adjust the release date for all pre orders of a specific product. Either check or uncheck the "Send Email Notification" box to optionally notify all customers involved.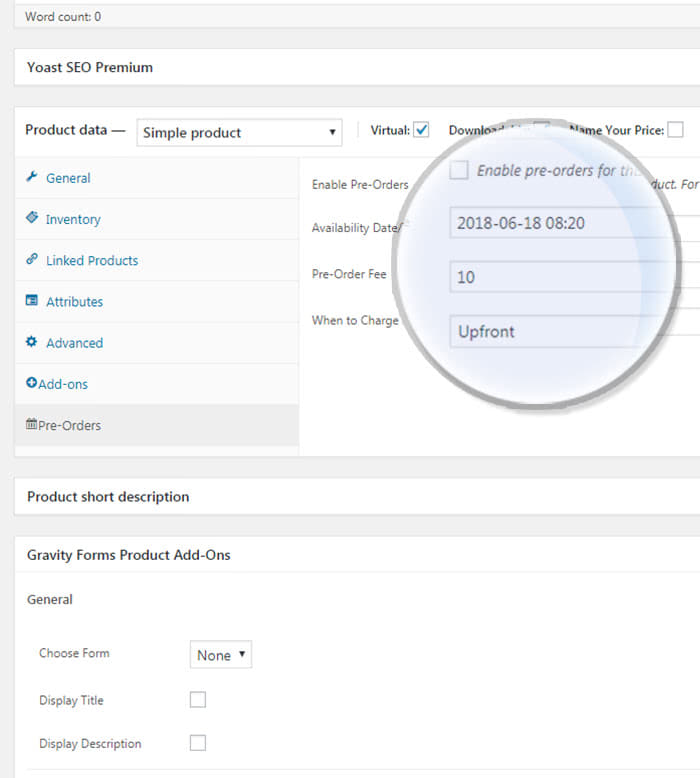 Customize Preorder Fields For Simple Or Variable Products
You can easily enable a product for pre order. After enabling it, you can set the availability date and time, the pre order fee and when to charge for the product.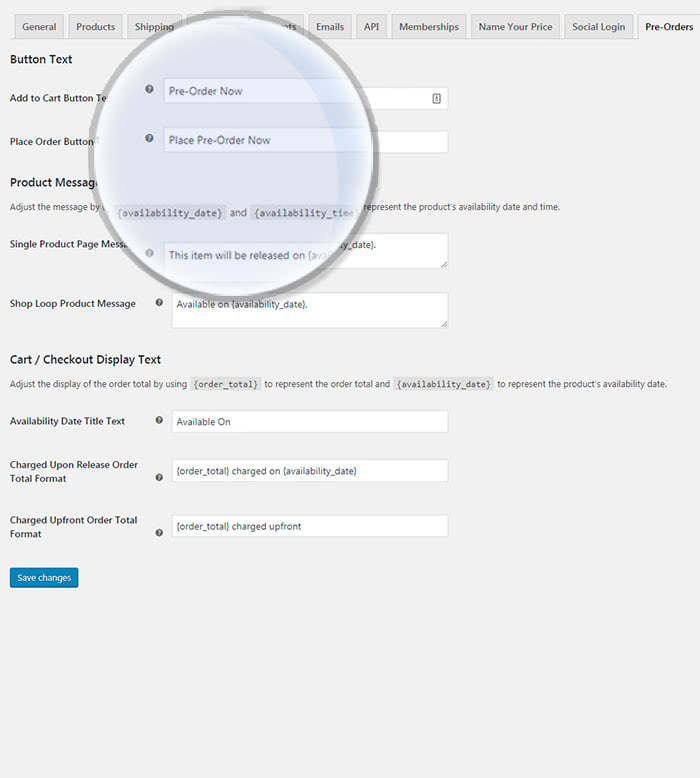 Configure The General Settings For All Preordered Products
You can set the button text or control the message displayed below the price on the product page. You can also change the text shown when the product is in the cart.
Pre Orders Plugin Features:
Set an optional date/time when the product will be available.
Automatically charge orders when the product is available.
Change the release date for a pre ordered product without changing the preorder status.
Email all customers who preordered a product so they remain engaged.
Cancel pre orders if the product is no longer available.
Filter your pre orders with a custom "pre order" order status.
Works with simple and variable products.
Optionally charge a fee for a pre order thus increasing your chance to reach a product/market fit.
Customize the Add to Cart Or Place Order buttons for preorders thus having a more compelling call to action.
Does your store have products which are so awesome that your users should order them even before their release date? Then Woocommerce Pre Orders is the perfect plugin for you! Try this amazing plugin, which allows you to set the availability of your product, when it's going to be available and many other cool options your ecommerce store simply can't afford missing!
How to get started
Download the EffectIO Dashboard plugin, activate it and search for Woocommerce Pre Orders. On the right part of the screen, you should see the Install button. Click on Install, then go to Plugins -> Installed Plugins and activate it.
How Woocommerce Pre Orders Works
From the plugin manager, you will see these 5 options: Settings, Manage Pre-Orders, Support, Docs and Deactivate. The last option is for when you no longer need the plugin and you want to delete it from your site.

If you click on settings, a screen of options will pop up. We'll walk through them and tell you what each of them means.
From here, you can modify the buttons on which your users click in order to buy. You can basically write anything. Just remember, write things that convert well. You can even test different options, especially if you're running ads, in order to see which type of message button converts better.

The Product Message option offers you the possibility to tell your users when the specific product is available. You can write a single product page message or a shop message (this last one means that it's available for the whole shop). Here, you can also enter other options, such as "Order Now".

Moreover, you can let your users know when a product is available or not.

If you just found out about this plugin and you don't know how to perfectly use it yet, you can put the whole plugin on staging, so no orders will be processed automatically. This might be a good idea for anyone, in order not to worry about not delivering orders. In other words, this is just another testing option you should disable after you make sure that everything is alright and you can handle all the pre-orders.
Quick recap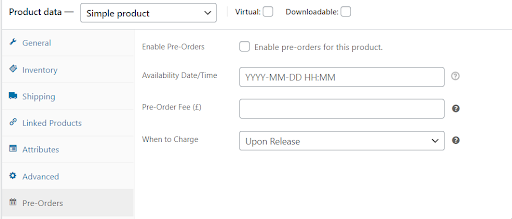 When you want to enable pre-orders for a specific product, all that you have to do is to enable pre-orders for that, by going to Products -> That specific product. You can also set the availability time or date, including the hours and minutes and the Pre-Order Fee. Moreover, another cool feature is that you can charge your customers "Upon Release" or "Upfront". Customize each product depending on your products' availability and create an amazing journey for your users!
To conclude
Woocommerce Pre Orders is the kind of plugin you might want to test if you have products which need to be ordered before going available. Also don't forget to let your customers know when their favorite products are going to be available for them in order to make sure that they have a great shopping experience.