Find Out More About WooCommerce Product Add-Ons
WooCommerce Product Add-Ons is a product configurator which allows your customers to personalize their products by adding input boxes, dropdowns, file uploads or checkboxes.
Moreover, you can use the add-ons as a product designer and you can apply it to different products of your customers. For example, you can only have an add-on for a wide range of products, not for black shoes only.
Furthermore, as a product designer, it does not have support for conditional logic. If you want your customers to fill out different fields based on information they fill out, we recommend that you use the powerful Gravity Forms plugin to create forms with conditional logic. Then you link those forms to your WooCommerce products with the Gravity Forms Product Add-Ons extension.
WooCommerce Product Add-Ons Features
Works great in particular for gift messages, donations, laser inscription and any other product that requires user input.
Supports compulsory fields, text areas, checkboxes, radios, select boxes, custom price inputs and file upload boxes.
You can add Add-ons worldwide or per-product from the edit product page, such as you can apply the plugin either to all of your products or to specific fields, built upon your choices.
It works with the WooCommerce Subscriptions plugin to add pricing to your options for the repeated subscription.
More About the Global Add-Ons Fields
GLOBAL ADD-ON REFERENCE
The name that you are giving to the add-on.
PRIORITY
It determines the order in which add-ons are displayed on the frontend.
APPLIED TO
In other words, it determines which products will show the global add-on.
Tips & Tricks For This Product Designer
If you want to add your first add-on, you can click on the "New Add-on Group" button on your product settings. After that, you have to select a field type from the top-most select box. More choices are available here (for instance checkboxes, radio buttons, select box, custom input etc.).
For instance, you can change the order in which the add-ons are displayed with drag and drop. More than this, add-ons can be exported and imported using the buttons when editing any type of add-on.
In order to make the uploads hard to find, you can store them in randomized folders under wp-content/uploads/. Hence, people are allowed to browse your file/folder structure if some hosts enable directory listing.
In other words…
Think out of the box with Woocommerce Product Addons! Looking to add new products or improve the old ones but you're out of ideas? Start with this amazing plugin, which will add a sparkle of beauty to your products and will make them unique! Make even your competitors jealous of your site.
How to get Woocommerce Product Addons
You can simply get this plugin by using the EffectIO Dashboard. It is a cheaper way of having the Woocommerce Product Addons plugin. Simply download the EffectIO Dashboard plugin and click on "Install", in the right part of the screen. Then all you have to do is to go to Plugins from the left menu and click on "Activate". It's that simple! Then you can start benefiting from it.
Getting started
You may be used to the classical aspect, the one where you go to Woocommerce Settings and then click on the desired addon. However, here, things are a little bit different. You have to go to a product or add a new product and you will see the fields you need there: below "Get more options":

If you click on "Add field", one new will appear. If you want to see multiple types of fields, after you click on "Add field", you have to click on the first option and this will appear: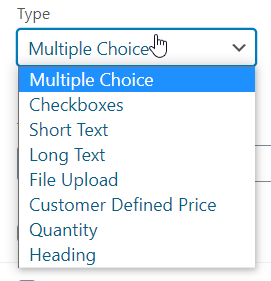 You can therefore choose from the multitude of options that you have, based on your business' current needs, goals and type of products. Therefore, you can choose from: multiple choice, checkboxes, short text etc. These are really helpful when you want to give your users more information about the extras of your services or products. You can even transform this field into a heading, as you can see.
On the right of this option, you can choose how to display your previous choice:

In the case that you want, you can even add a title to your field and choose how to format it: Label, Heading or simply hide it. Moreover, you can add a description (which we'd recommend, as it is really useful for the users). Finally, you can choose to make this field required or not, depending on what you think it's best for your business.

You can even enter an option and choose, at the pricing option, from 3 options: flat free, price or quantity based. Then enter the desired price. At the end of it all, click "Add Option" and you're all set.
Don't forget that you can move around this special field, by clicking on the 3 lines next to "Enter an option". This means that you can move it around as you wish, even put it in the first place.


To sum up
To sum everything up, Woocommerce Product Add-ons is a useful plugin when it comes to adding powerful features to your products. It helps you not only to make them unique, but also more interesting for your customers. It is a Woocommerce Addon, so it is compatible with this plugin. Start making awesome products with Effectio!