WooCommerce Smart Coupons enables your clients to instantly issue coupons on item acquisitions and to purchase credits for themselves or gift to others. Thousands of shop managers count on Smart Coupons everyday – making it one of the most preferred WooCommerce extensions for marketing. Test this coupon plugin if you wish to see your clients producing coupon codes.
How to install this plugin
   First of all, you download the .zip file from your WooCommerce account.

   Secondly, you go to Add New to upload the file that you have downloaded.

   Then, you Activate the extension.

   In the end, you will be redirected to the Welcome Page of Smart Coupons.
WooCommerce Smart Coupons Features
Generate coupons of a new kind.

Auto Create any discount.

Distinctive coupon code generation for all credits/gift certificates.

Automatic Balance Maintenance – Credit coupon stability is decreased instantly.

Automatic Deletion on Zero Balance – Credit/certificate is deleted automatically when balance reaches zero. Therefore, you do not need to invest time on this.

Connect as many coupons as you prefer with an item.

Practical and familiar coupon management interface.

Establish expiry dates of coupons in Days, Weeks, Months & Years.

Alternative to choose the product's price

as the coupon's quantity – enable your clients to  purchase any credit amount from single product using this coupon plugin.
How to Add Coupons to Your Store
The first thing you have to do in order to add coupons is to go to WooCommerce  > Coupons. Then, click Add new coupon. If you want a credit-based coupon, Store Credit or Gift Certificate, use Store Credit/Gift Certificate as the type. After that, you can Add other coupon details and just click Save after you finish.
If you need help or any other details, you can go to Coupon Management and set up restrictions by usage, email address or other limits.
Any coupon can be utilized as a template to auto-generate new and distinctive coupons but along with the same characteristics as the original. This function can also improve safety, because people can't share coupons since auto-generated coupons are limited to a client email address.
In order to set up auto-generation, you have to go to Add new coupon, or go to an existing coupon. After that, go to Auto Generation of Coupon and enable. Also, you can set up a prefix or a suffix if you wish. In the end, all you have to do is click save and everything is ready.
Actions you can Take on Your Store to Grow Sales
Action 1: Smartly Priced Discounted Credits
Discover your common order size, for instance $175. By using this coupon plugin, you can generate a Store Credit / Gift Certificate coupon for greater sum – $250. Produce a new item and price it at a worth a bit over typical order size. In this situation, the new item can be priced at $200. Make sure the discount is profitable enough. What you've just done is attracted your clients with a great discount, made them pay in advance, and continue purchasing in future to diminish their credit balance.
Action 2: Offer Discount On Higher Priced Product While Purchasing Lower Priced Product
Generate a discount coupon and enable usage just on a particular higher priced item. Connect this coupon with an associated lower priced item. In this way, more people will purchase the lower priced item and many of them will change to higher priced item, too.
Action 3: Offer Multiple Credit Coupons With One Product
The more, the better! Generate several coupons of different denominations and provide them on one or more items.
Action 4: Holiday Season Gift Certificates / Time Limited Offers
Produce a discount/credit coupon that is valid between a specific time ranges. Wisely value the coupon. Advertise the offer in advance, you can even keep increasing offer cost as coupon start time comes closer. This will produce scarcity and fast people to purchase more and earlier.
Action 5: Partner with a "Deals" Site
Create a group of coupons with WooCommerce Smart Coupons plugin – and export them to a CSV document. Now share this CSV file with the "deals" web page, so they can issue one coupon to each customer. You can import the CSV file back into your shop so when clients use the coupon, they obtain the promised deal. To make for a seamless experience, offer a direct link to the item on offer with the produced coupon in the URL.
Action 6: Create an "Available Offers" Page on your Site
Produce a new page in WordPress, link it from a known spot on your site. And use shortcodes to display coupons for offers you have presently available. You can even use images, link them to an item web site and move the coupon code in the URL.
In other words…
Meet WooCommerce Smart Coupons!
How to use WooCommerce Smart Coupons' Settings
If you haven't used this plugin before, in order to find it you have to go to Woocommerce in the left panel and click on Coupons. In the case that you have never created a coupon before, this screen will show up:

As you can see, in the top corner of the picture you can find "Smart Coupons Settings" and Frequently Asked Questions. If you click on Settings, you can set the colors, like in this picture:

Here you can see lots of color mixtures, but you can also customize the colors as you prefer. If you click on one color from the second option, you can choose a one of your own: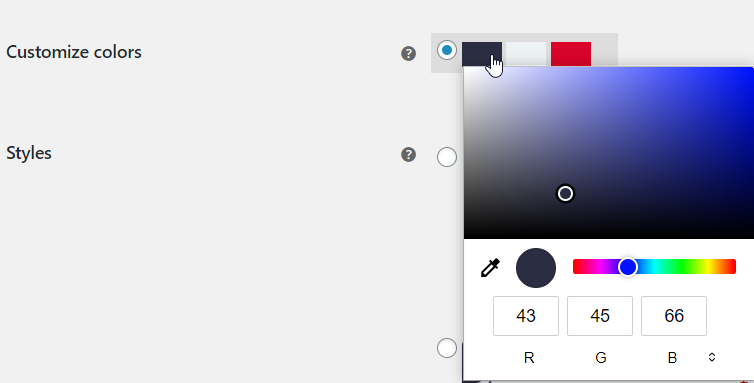 If you go below, you can choose both the style of your coupons and the email style: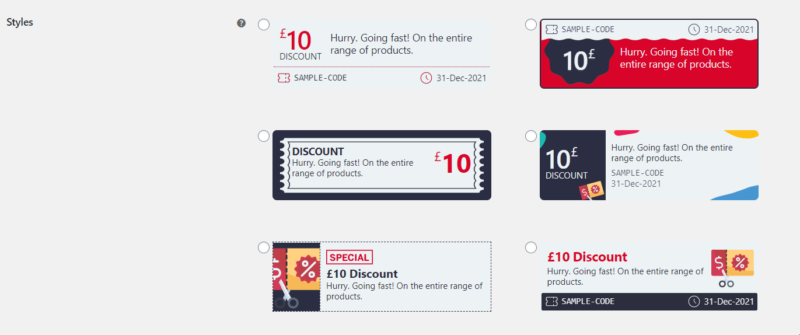 Coupons' number, conditional field rules and more

In the first field, you can add the number of coupons to show on the checkout / cart page. Depending on your business, you can go up to as many as you like. You can also add the number of characters in the auto-generated coupon code.
In the third field, you can add the pages which need to be achieved so that your customers can get the coupons. Finally, enable store notice for a specific or for more specific coupons.
If you want to see how they will look like, click on "Preview".
Woocommerce Smart Coupons' display, deletion, emails, printing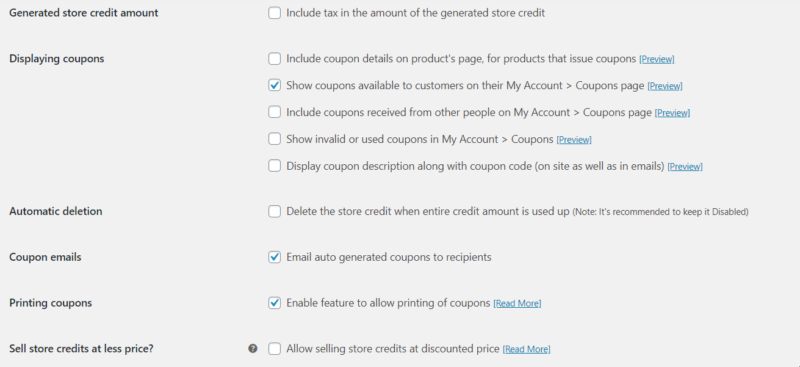 The first option from this image allows you to include tax in the amount of the generated store credit. Displaying coupons has multiple options, like:
Including coupon details on product's page.
Showing the available coupons in the Coupons Page, from the users' account.
Including coupons received from other people (this is especially cool if you have party articles / fashion or anything that's going to improve your users' share rate)
You can display the coupon's description along with the coupon code (on site and in the emails you send).
Also check the Preview if you want to see how they look like.
If you want to delete the store credit amount when the entire credit is used up by your users, you can do so. However, it's recommended to keep it disabled and only do this if you really know what you are doing.
You can also email auto-generated coupons to recipients, and that's a great idea, because users love to receive free things.
What is more, you can enable the feature of allowing your users to print the coupons.
Last but not least, you can sell store credits at a lower price.
To sum up
Use Woocommerce Smart Coupons in order to generate more sales and get more revenue from your site! To make sure that everything is alright, you should check the settings of your plugin and then enter the coupons on the site. May it be Christmas, Easter or any other special occasion, like a sign-up, you can generate coupons in order to celebrate it and make your customers happy.