WooCommerce Customer Order CSV Export lets you export orders or customer records, bulk export records on-demand, or you can set up automatic exports via FTP, HTTP POST, or email for orders and customers.
Both order and customer CSV exports are processed asynchronously in the background on your site. This means that you can begin an export, and it will process as you continue to work on other things. These exports are batch-processed to prevent timeouts, letting an export churn through thousands of records while you continue working on your site.
WooCommerce Customer Order CSV Export Features:
Export customer data: name, email, addresses, whether a paying customer, and more
Export order data such as line items, order totals, shipping information, and other details
Create custom export formats to include the order or customer data you need
Processes exports asynchronously so thousands of records can be exported at one time, even while you continue working on your site!
Download files immediately, or continue working — you'll see an admin notification when your files are ready for download
Bulk Export tool lets you export all orders, or export based on order status, product(s) included, product categories included, or date range
Use the bulk export tool to get a list of all customers, or a list of customers by registration date
Manually export or transfer one or more orders while viewing your order list via bulk actions
Set a custom filename for manually or automatically exported files
Automatically export WooCommerce orders to excel on a recurring basis via FTP, HTTP POST, or to multiple email addresses
Automatically export customers to CSV on a recurring basis via FTP, HTTP POST, or to multiple email addresses
Define an export schedule and starting time for auto-exports
Option to automatically export orders individually as soon as they're paid for
Automated exports only include new records to avoid duplication
Transfer status for automated exports is monitored to notify you of failures
Compatible with WooCommerce Subscriptions: export subscription or renewal orders only
Compatible with several other plugins, including:

Sequential Order Numbers Pro

View and download previous exports from the past 14 days from your "Export List"
Export custom fields (meta) for customers and orders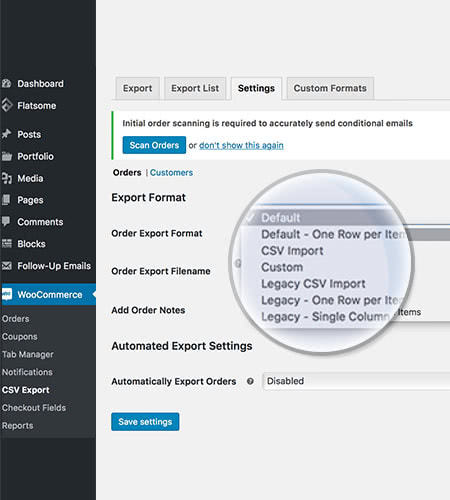 Settings
Manage different export criteria for your lists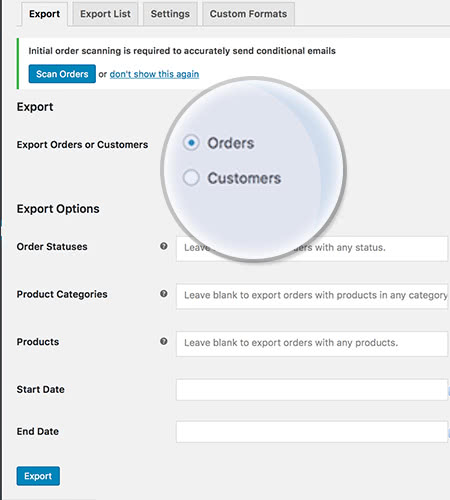 Manual Export
Both orders and customers can be exported manually at any time
In other words…
How to get the plugin
Download the plugin from EffectIO Dashboard. Click on Install, then activate it.
Woocommerce Customer Order CSV Export configuration
After installing the plugin, this notification will appear on the top of your WordPress dashboard:

From here you can choose whether to setup the automated or manual export. We'll go through each of these:
1. Automated Exports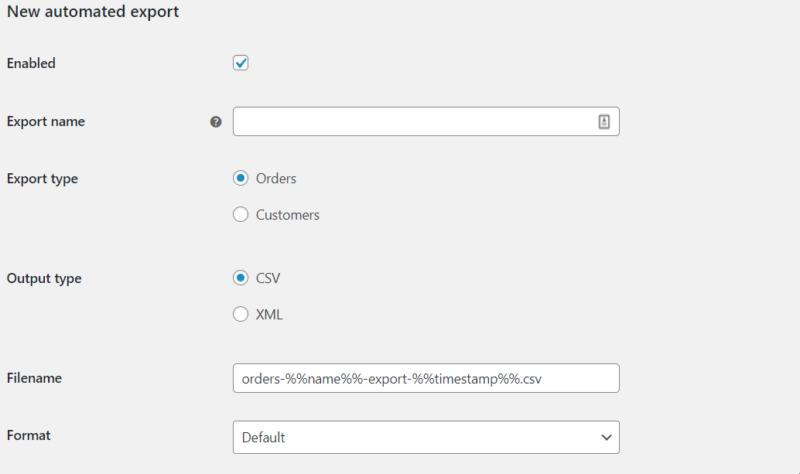 You can click on "Automated export" and this will show up. You can either enable or disable it. Give your export file a name and choose your export type between orders and customers. You can either export this into a CSV or XML file. Name your file, choose the format (between Default, One Row per Item, CSV import) and that's it.

You can set the export to be done at different intervals: on scheduled intervals or immediately as orders are paid. Also choose a start time.

What is more, you can choose the export interval, which is set for minutes. The default value is 30 minutes, but it can be any longer or shorter. This option is required in order to trigger the automatic export.
Regarding the method, you can choose from: Locally, FTP, HTTP Post or even email.
The FTP Settings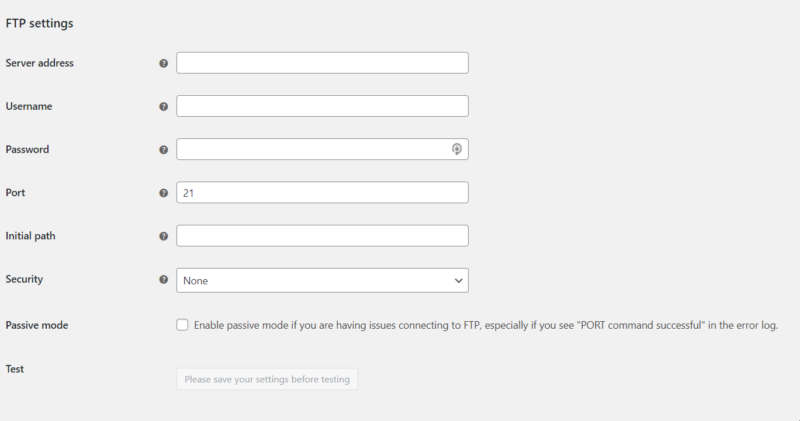 Complete all the details of your server there and enable the passive mode if you have issues connecting to FTP.
You can also test the settings, however, save your settings before testing.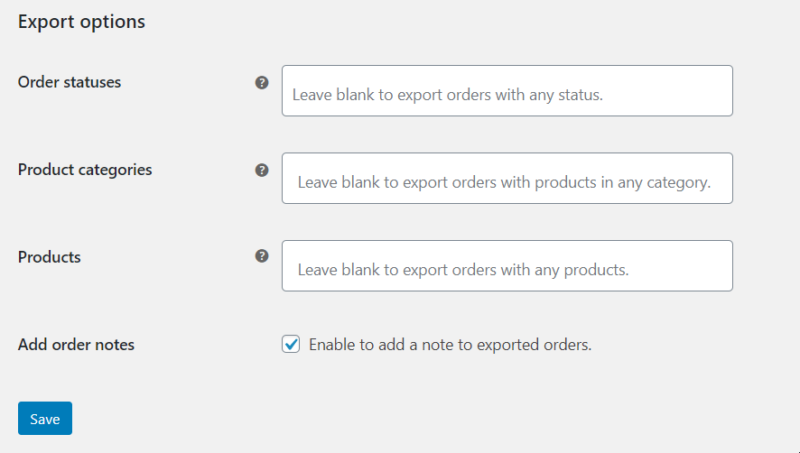 From here, you can select the order statuses to be exported and the product categories. You can also export only the products you want and add order notes.
Manual exports

There are slight differences between the manual and the automatic export types: the first one allows batch processing, while not allowing to set up the download interval.
Depending on your scenario, both options can be good and provide a real solution to your problems.
Exported files & Custom Formats
The exported files will appear in a separate part. All you have to do in order to find them is to go to Woocommerce -> Export and click on Export list. If you haven't exported anything before, this option will show up:

If you click on Custom Formats, you can add a new one.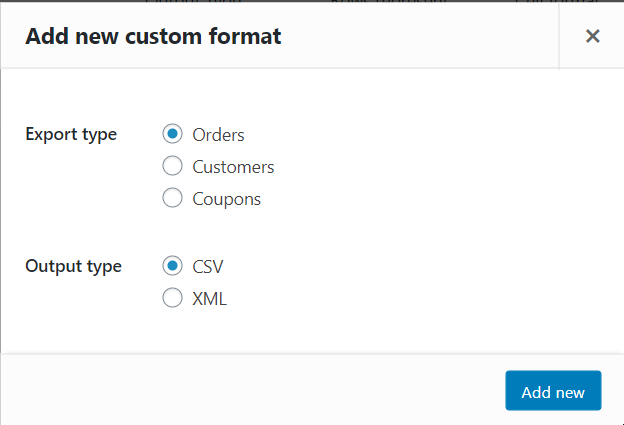 You have to choose between these. Choose the ones that best represent your interest. Then choose from the following formats: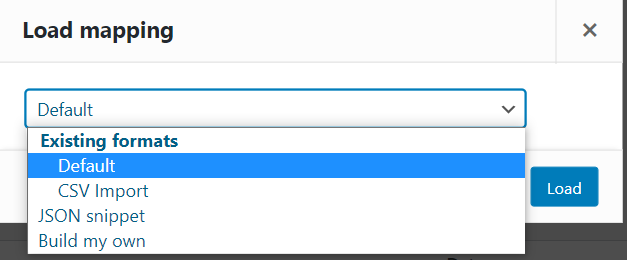 We'll choose the default one, but you can choose whichever you want.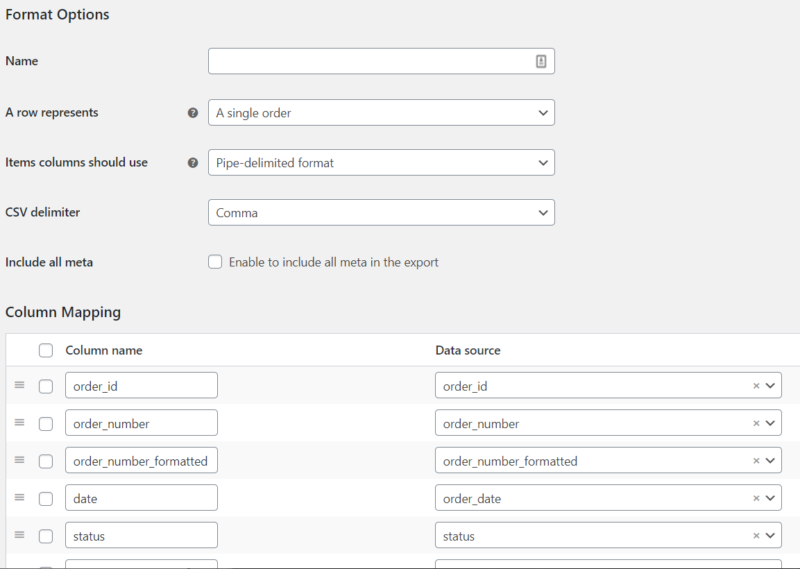 The format options will appear there, as well as the Column Mapping with all its options. Insert the name of the Format, choose what a row represents, how many items columns should use, the CSV delimiter and enable whether to include all the meta in the export.
To conclude
In conclusion, you can export your site's products and categories using Woocommerce Customer Order CSV Export. Start working and finishing everything within just a few hours! Instead of manually exporting every product, you can now have this option for you and your business. Save more time with EffectIO and discover even more awesome plugins using our Dashboard. Start now your journey with us and you will not regret the choice you've made!