Find Out More About WooCommerce Shipping Per Product
WooCommerce Shipping Per Product is an extension which enables you to determine different shipping costs for items. Additionally, customer location is at the base of those costs. To continue, you can add these shipping costs to other shipping methods. On the other hand, you can use them as a standalone shipping method.
WooCommerce Shipping Per Product Features
Define line and per-item costs per production
Define line and per-item costs per variation
Costs can vary depending on the destination
Import and export rates via the built-in simple CV handler
Standalone shipping method – final cost is the sum of all item costs
Add per-product costs to other shipping methods
The extension is the perfect solution if your shop is selling one-off, heavy or large products which require additional shipping!
See What's In It For You
Define shipping costs for products
Define shipping costs for variations
Use the plugin as a standalone method
Import and export rates via CSV File
How to get Woocommerce Shipping per Product
Firstly, get the EffectIO Dashboard, then go and search for Woocommerce Shipping per Product. Afterwards, click on install and go to Plugins > Installed Plugins and activate it.

In other words…
Shipping per Product is a premium plugin that allows you to make different shipping pricings for your products, based on your customer's location. This can be an unique shipping method or can be added to other methods.
How to use it
There are two ways in which you can use this plugin:
Multiple shipping methods: if you use this one, the rates that you set will be applied in addition to your other shipping ways. In the case that you offer a product with multiple variations and you want to set extra shipping fees, you can create a specific tax for that product. If you have more than 1 item in the cart, 2 types of shipping would mean 1 cost: a. the normal shipping costs for the other items and b. the cost for the bulky items.
Standalone Method: the per-product shipping method is the default one. All product costs will be added to form only one rate.
Defining Costs for products
Firstly, add or edit the product. You will see an option: Enable per-product shipping cost. Go and enable it.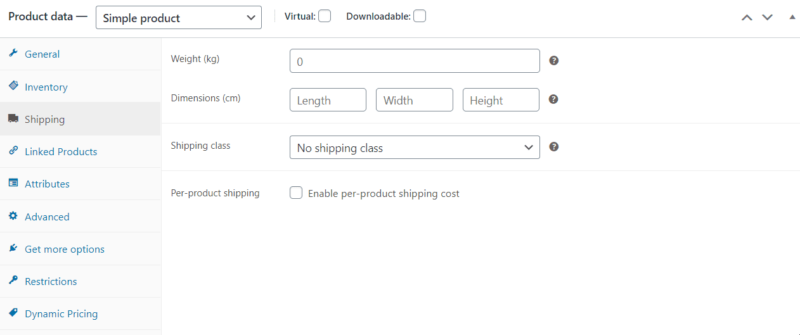 After you do so, you can see the following options:

The "Add per-product shipping cost to all shipping method rates" option appears only if you use the legacy shipping per product.
The above table is where you put the customized taxes.
The table is where you define your custom rates. Click 'Insert row' and fill in each column;
Country Code – For example, GB or US. Always use a 2 digit country code.
State/ Country Code – the same as above
ZIP/ postcode – enter the postcode or use a wildcard to have multiple postcodes.
Line Cost – Put here the cost which will be applied to the line (exclude tax and this ignores the quantity)
Item Cost – Put the cost which is going to be applied to the item (quantity * cost). Exclude tax from here, too.
But you can add as many rows as you wish. However, only one row will match your customer's location, starting from the top to the bottom.
Moreover, if you need, you can export and import these settings and even overwrite some settings.
Speaking of the devil, you can also go to Woocommerce > Settings > Shipping and set the overall settings of the shop. You can even enable the debugging mode should you have any problem with this plugin (plugin conflict).
Conclusion
By using Woocommerce Shipping Per Product, you can add customized taxes for your clients, which is beneficial both for you and your clients. By using this plugin, you can earn more and spend less! Moreover, your clients are going to feel more special because of their personalized prices. Discover other plugins for your Woocommerce store by using the EffectIO Dashboard. Get started with EffectIO!